Discussion Starter
·
#1
·
All summer long we read the praises of 7/8 ounce loads, spurred, no doubt, by the jump in shot prices which not only led more people to try them, but made people look for the best in them; it's only natural to try to find gain when you are forced to do something anyway. Among their advantages are the cost and recoil and they genuine for sure. Many said the reduction in recoil led to less fatigue, an actual increase in scores, and so on and frankly, I believe them.
Still, the load does throw fewer pellets out there and since it's pellets that break targets you have to wonder: Are they really just as good at breaking targets?
While I was doing the linked (above) wad test with 7/8 ounce loads, I tried to answer this with a couple of additional loads, testing the "just as good" proposition in two different ways. One load was 1 1/8 oz. of the same 8 ½'s I used for the wad test (testing pellet count) , the other was light Federal Paper 7 ½'s (testing just which is likely to hit more targets.)
Method:
I tried to assemble what I thought a real-life competitor might use shooting singles with 7/8 ounce or alternative loads. The distance I chose was 34 yards, which is just my standard for singles; the pellets were Remington Tournament Grade 8 ½'s. WW 209 primers sparked enough Red Dot
Test 1. . . to produce speeds of 1300 FPS from once-fired STS hulls with 7/8 ounces of shot and Federal 12SO wads. For comparison I chose Federal light 7 ½ Gold Medal Papers, a load with around 425 pellets just 25 more than the 8 ½'s I was testing. The same number would have been better, of course, but they are what I had in the car. In any case, all we're trying to do is see if there's a difference, not account for it.
Test 2. . . . to produce speeds of 1150 FPS from once-fired STS hulls with 7/8 ounces of shot and WW grey wads. For comparison I loaded a couple of boxes using the same pellets but a Remington Power Piston wad to get a tested 1150 fps from 1 1/8 ounces of shot.
I used the under-barrel of an MX-2000 Perazzi with a bore of 0.738 and a choke of 0.030 inches, all entirely standard stuff, but just one of countless equipment choices shooters make all the time. I thought of this protocol as "typical" though another would have been equally reasonable.
Patterns were analyzed using Dr. Andrew Jones' Shotgun-Insight program, with particular reliance on the "Probability of a single-pellet hit" feature of the software, which is exactly the question this test set out to answer. It looks at three areas of the pattern: 0-10 inches, 10-20 inches, and 20-30 inches and estimates just what it refers to, the probability of a single pellet hit in that area. My own guess is that if you were, for example, more to the center of any of these circles (or rings) the resulting value would be a bit higher (and the converse is also true, of course), but I think it'll do fine, at least for comparison purposes.
Test 1.
First, though, let's look at a conventional metric and absorb some of the caveats regarding generalization of one of these tests to more general pattern results.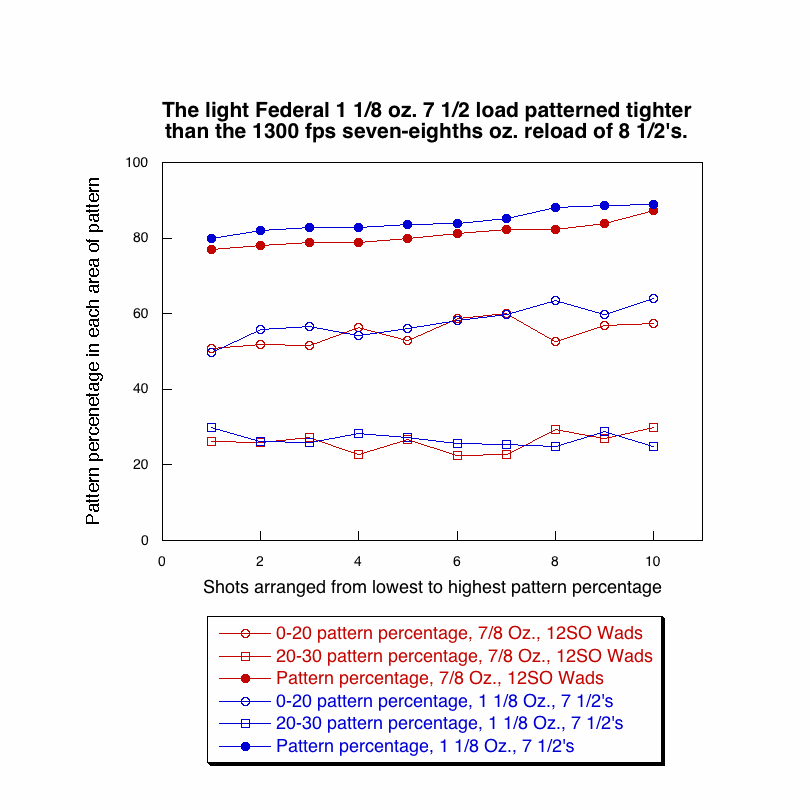 The Federals patterned tighter. Does this mean that 7 1/2's stay closer in general or even that I've finally found a barrel which "Likes bigger shot.?" No, nothing of the kind. There are too many changes here. Those kind of questions would have required at least handloads, same powder, matched speed, the kind of thing I did for the other test. So what we're testing here is not the ballistics of shot size, but rather which of the two loads is likely more to put a pellet on a bird.
Once again what we're looking at here is the calculated probability of a single-pellet hit in each area.
If you shoot better than plus or minus five inches you can expect to do better than this, but no matter what, few of us are being hobbled by loads like this when we are shooting well. And, clearly, even when we aren't hitting the all, we are very close most of the time if we have a pretty good average, such as A or above, roughly speaking.
The intended matching load for this, 7/8 oz of 8 ½'s has 25 fewer pellets and has probabilities like this:
So which to choose when the deciding characteristic is score, not recoil or cost or comfort or anything, just score.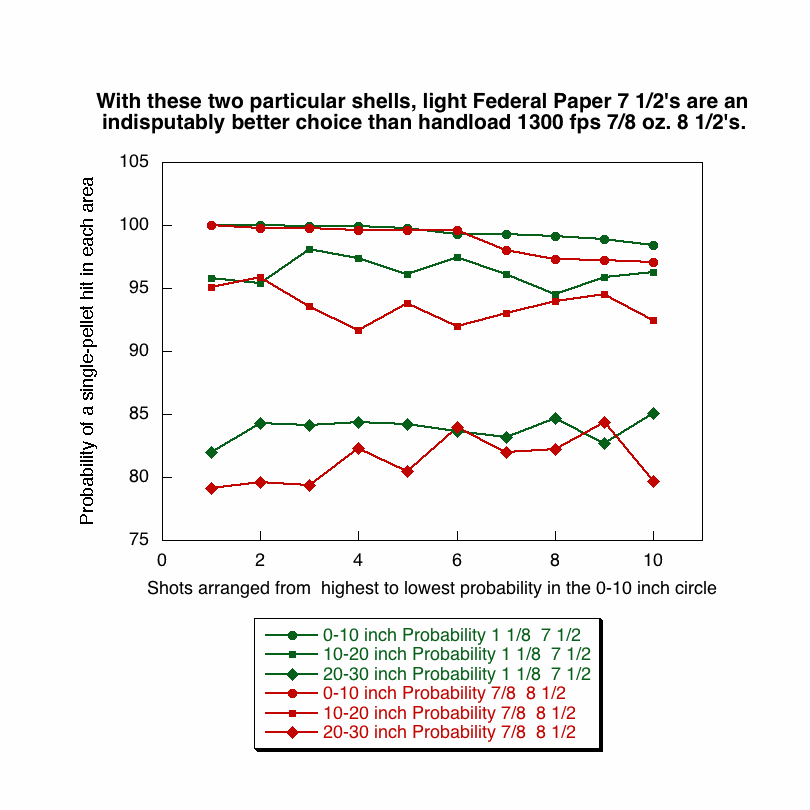 The difference here, especially in the 10-20 ring, means you'll see me shooting 1 1/8 ounce factory loads with bigger shot at the most important shoots. But I shoot a lot of marathons as well, and it looks to me like 7/8 ounce of 8 ½'s might be just the ticket there. In fact, I intend to try them on some multi-day marathons based on these results, which tell me that my score should be no more than a bird or two off if that, and then only every couple of rounds, and I can accept that at Buffalo or Waseca (but not at Alexandria or Sparta.)
Test 2.
How about narrowing the differences, here it's just 7/8 and 1/1/8 ounce of the same shot.The overview which shows the obvious, there are way, way more pellets in 1 1/8 ounce compared to 7/8.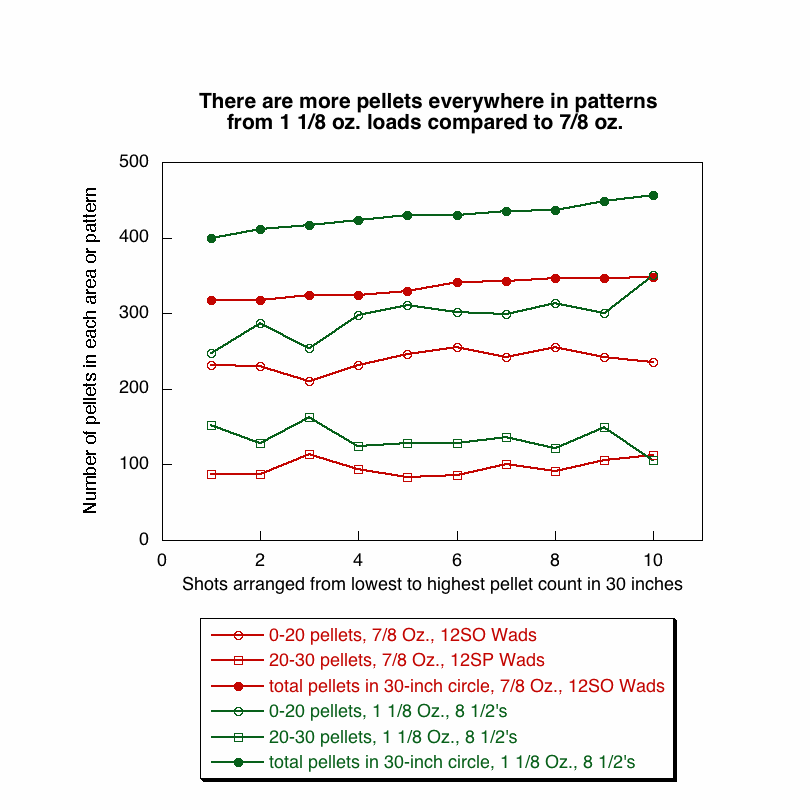 What does 1 1/8 ounce look like in terms to probabilities?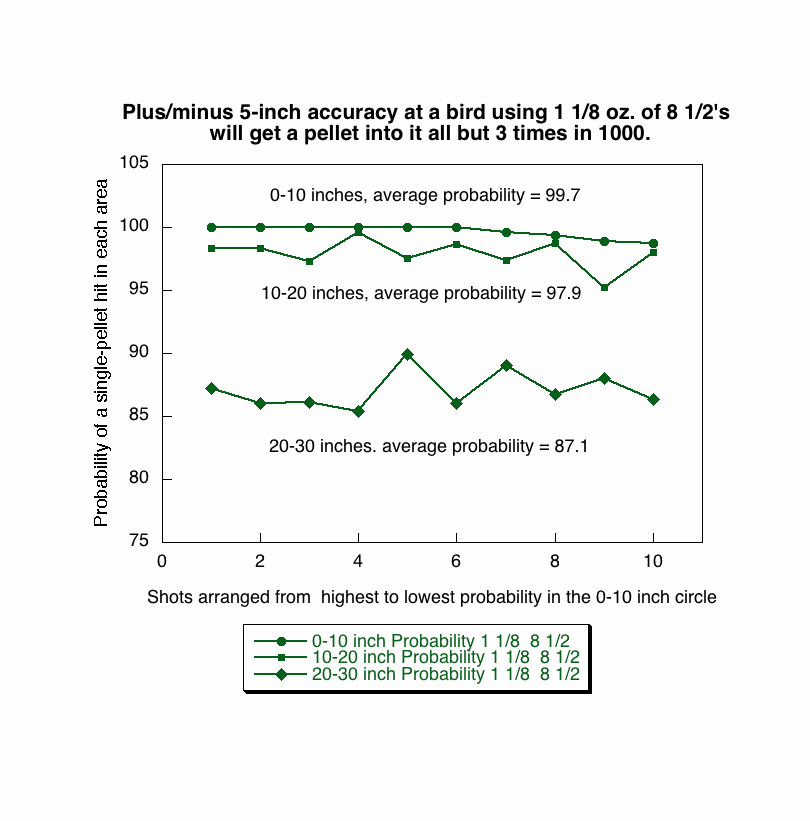 You aren't going to miss many of them due to inadequate pellet count!
How about when you drop off a quarter of an ounce?
And compared:
Again, when it counts, more shot is the only rational choice.
Discussion:
But pause a minute here and take a look at that graph and think what it means, not just in this little test, but where else it may apply.
Think back to all the posters who've been promoting one ounce (or less) as a "cure" to the "handicap problem." They always say "It'll affect long-yardage shooters more than short" and when I ask them how they know they never do better than "We'll, you have to be more accurate and that's harder way back there and now – with less shot - you'll have to be more accurate yet.''
But see, this graph suggests that the effect is exactly the opposite to what is predicted. The high-average, long yardage members we want to hobble are right up in that the middle of that 0-10 inch circle when they are on track, and they won't be affected much at all, once they switch to 8's. It's everybody else, the ones using those outer circles every now and then, it's their scores which are going to suffer.
Of course, even thinking about the result of tests is anathema to some here, but to the rest . . .
Thank you for your attention,
Neil
© 2008 Neil Winston