Discussion Starter
·
#1
·
I was wandering around in a recent Magnum Shot thread (I'm a sucker for the paranormal and that thread has it, in spades!) and posted that when I want to load an ounce and an eighth of shot for singles just put a 31 bushing in my 118 chargebar, pour in some Red Dot, and go on about my reloading. I was told, in so many words, that that was not being nearly precise enough. It seems that the adjustable charge-bars were the only thing to use if you wanted to do the job right.
I think that's nonsense unless you are very seriously chronographing your loads way more carefully than most do it and want some particular speed (and aren't deluding yourself that factory loads go the speed the box says.) Unless you are in that rarified group of expert and experienced chronographers I'm sure you are better off with bushings. Put one in and if it drops the book value, leave it. If it's heavier, put in a smaller bushing. You will only have a general idea how fast your shot is going, but you won't be any better (or worse) off than an adjustable-bar dial-spinner either.
Oh, there was a day when I was "precise" to a fault. I just went to the garage expecting to find handfuls of specially modified MEC powder bushings to photograph to establish my credentials as OCD but I could only find one – I apparently threw all the others away when I realized that I was acting crazy.
Here's the apparent sole survivor, a 31.7 bushing as distinguished from one of the 31.6's or 31.8's I suppose.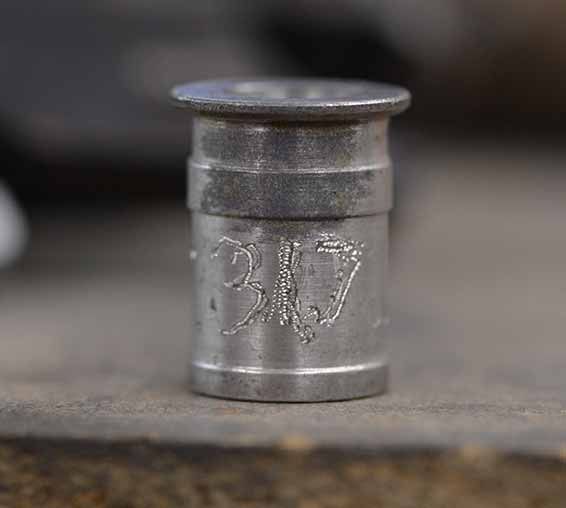 The reason I describe trying to obtain this sort of precision, as "acting crazy" is that reloading guides are guides, not "Reloading Scripture," and will, when followed, get you something safe which is in the ballpark of what you want. But that's all. Just the ballpark. So machining up a bunch of mid-span bushings so I could get the exact-grains the reloading guide specified was not going to give me the exact speed in the book and when I made these small changes I was as likely to be going the wrong way as the right.
Let's look at the speed results from a 1200 fps recipe with Green Dot, STS hulls
Here's what I got four years ago. The speed is the "Vel12" column in the summary at the lower left of the printout; it's in feet per second.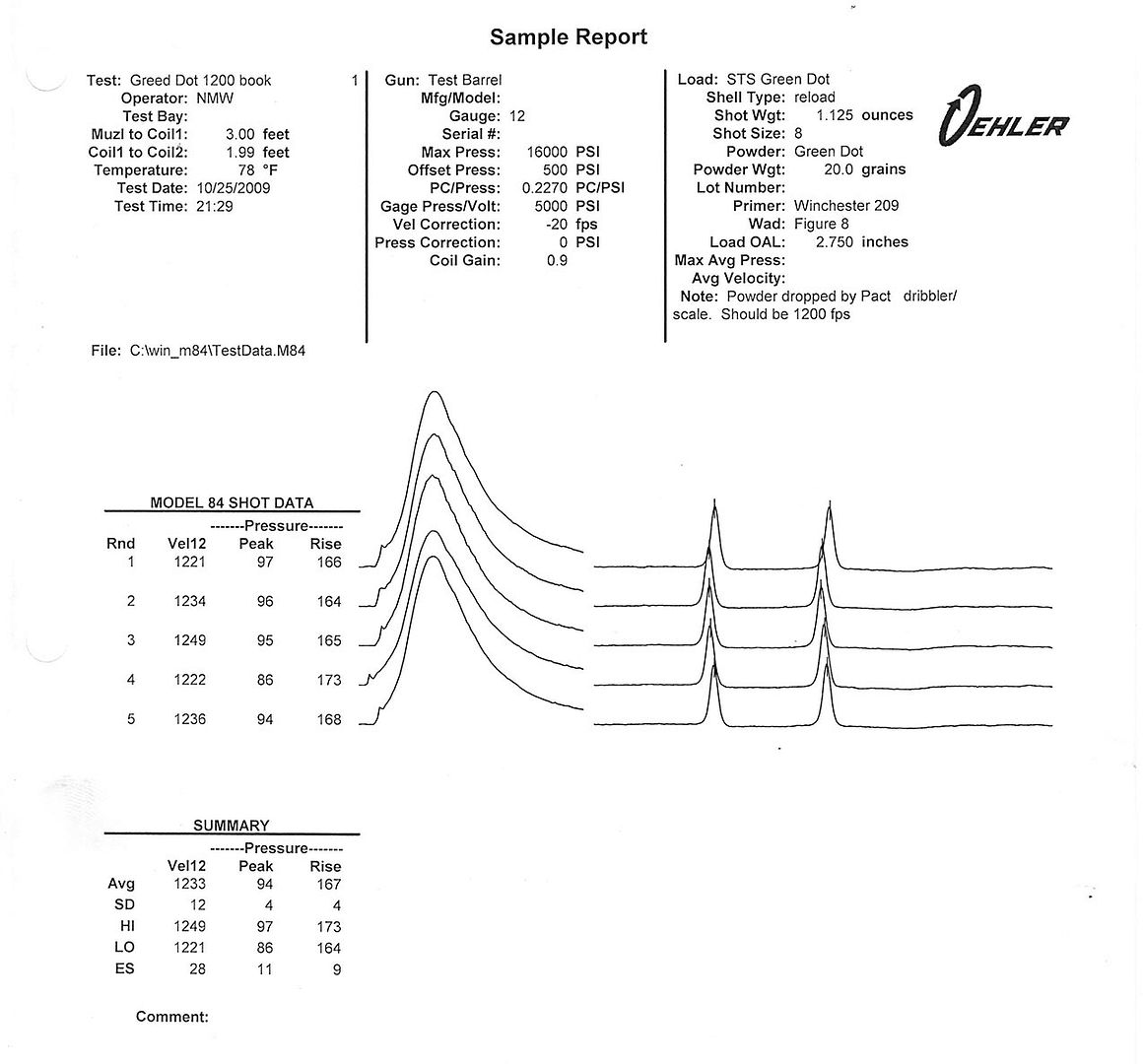 And here what I got a couple of days ago.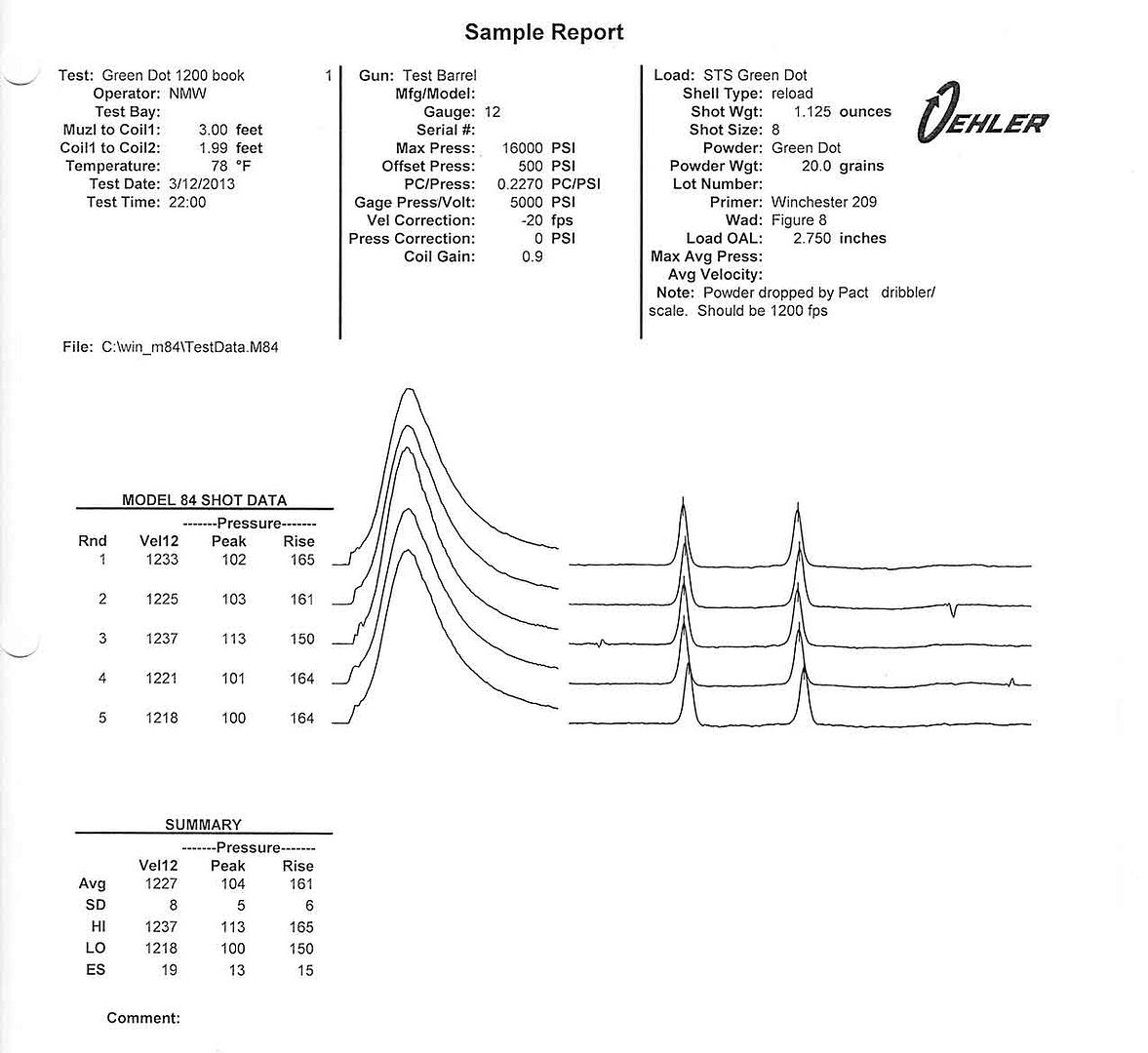 Different years, different lots of Green Dot and primers, but the results are essentially the same (1233 fps and 1227 fps,) no more different from one-another than I might have gotten from just loading five more on either date. They are a little fast, but not radically so; there are plenty of 3-dram factory loads which would match these (and plenty slower too.)
The Red Dot loads are a good deal more deviant. Here's 2009: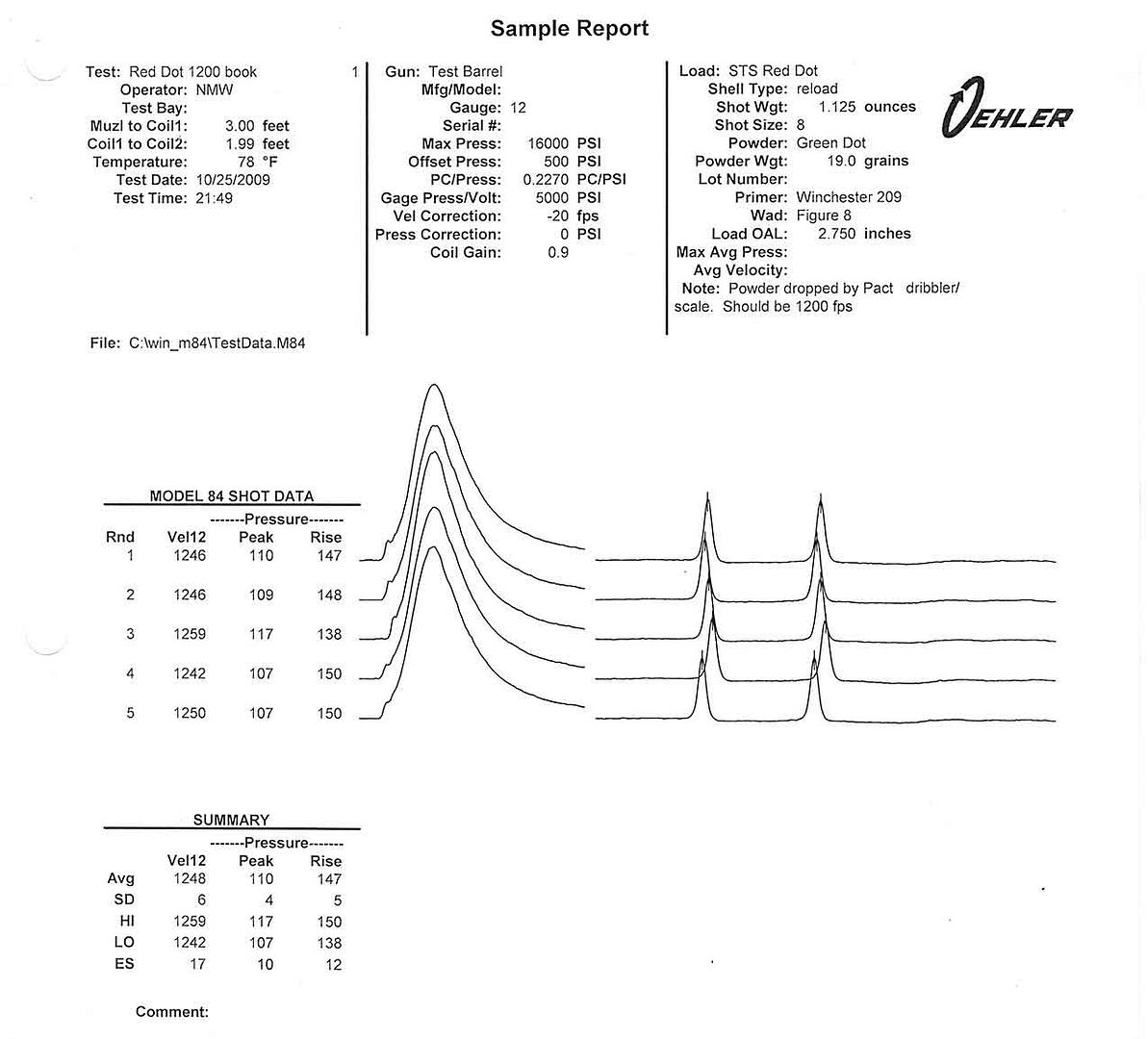 And 2013:
These are more of a problem, in that they are both about 50 fps faster than expected, and, once again about the same, 1248 fps and 1251 fps.
By now you be objecting "But wait, what you are saying is that this 1200 fps guide recipe is giving shot speeds about like Winchester Super Handicap Shells – how do know that your chronograph is not just reading thirty or fifty fps fast?"
Well, here are some of the aforementioned WW Super Handicaps, bought a hour before and tested within minutes of those Red Dot reloads.
And they are about the same as the Red Dots, 1257 fps on the average. The SD's look good, the tests look fine; that's about how fast all the shells are going.
What does that tell us about spinning adjustable-bar wheels to get, in this case, exactly 19.0 grains of Red Dot in hopes of hitting 1200 fps right on the nose? It tells us we are kidding ourselves. In fact, if we just used a MEC bushing which threw a little light we would be closer to our goal than whatever our extra care, our gold-star precision, could have gotten us, no matter how long we spent at it.
That's why I threw away all those custom bushings. They did not give me "better" shells. I could match the book, grain-for-grain, but the book's recipe could be faster or slower than the resulting shells, so the "match" gave me shells which were, on the average, no closer to my target fps than bushing do, and bushings are so much quicker, easier, and repeatable.
Does it make any difference that shells are faster or slower than we expect? When the deviations are within reason, I don't think so. Factory shells can easily differ 40 fps, lot to lot, and I've never been able to tell.
When I first started reloading I believed everything I read in the shotgun press. I would endlessly dither over the question whether I wanted the more open patterns of 700-X or the tendency toward increased center density that Green Dot would give me and on and on and on.
Once I realized this was mostly imaginary I still had all those powders Don & Tom told me I needed. Royal Scot D, 700-X, Dots of all stripes and colors, two kind of Solo, really anything you could imagine. A whole shelf of them, many without current reloading guides at all.
I was shooting a lot of marathons in about 2007 so I thought I could free up some shelf space by just shooting it all up. I put in a 28 bushing and a 118 charge bar and used up all the powder. Whenever I would change to a new container I'd shoot a couple through my Oehler 84 to make sure the pressure was OK, but otherwise I just ran them all through the press without regard to speed or much of anything.
They all worked fine; I could never tell how fast they were and the only clue as to brand was that some of them were really smoky. I knew they were one speed or another but could never guess which were which; they all seemed fine and my scores were about what they were with factory Federal Papers or AA's or anything.
Conclusions.
1. Well, first, if you don't have a chronograph and know how to use it expertly, bushings which throw the right amount or less are all you need. Greater precision (of speed) is an illusion.
2. The "cushion" every beginning reloader is told about at the club (the "fact" that recipes are "toned down" so what you think will be 1200 is really only 1160) , that cushion does not exist.
3. You can't tell anything about the recoil characteristics of powder(s) by comparing loads from a reloading guide. You don't know if they are going the same speed and they can be a lot faster (or slower) than you think.
4. The 1200 fps limit for ATA shot-speed which is so popular among a very, very small group of shooters (and non-shooters) will never work. In the two Dot examples above, it's not just the single shells the rulebook specifies which would be illegal, it's every shell. But the shooter is just doing what he is told. What are we to do when he is "caught?" He's cheating for sure, but is he really cheating if he just believes what he reads?
I'll probably think of more; or you can and post them as well as I can.
Thank your for your attention,
Yours in Sport,
Neil Winston
© NMW, 2013