PYREX Powder Reservoir for Spolar Gold
New Design
This is my completely redesigned PYREX Powder Reservoir for the Spolar Gold
The reservoir base is now anodized gold to match the Spolar Gold

The PYREX glass tube is securely attached to the base with epoxy

The cap is now black to match the shot reservoir cap
Now you can have a PYREX Powder Reservoir for your Spolar Gold that matches the loader.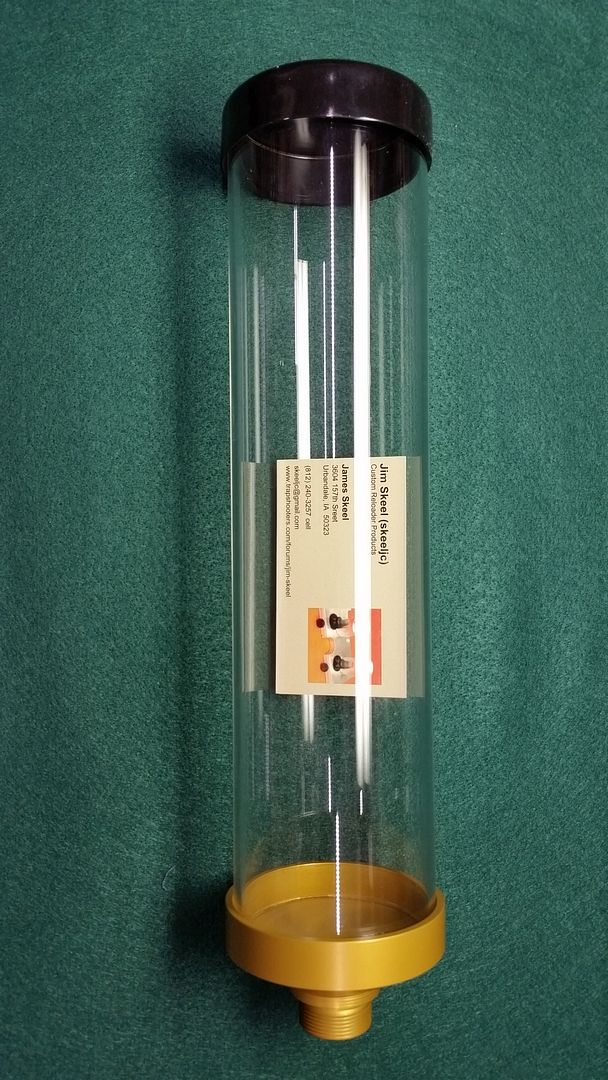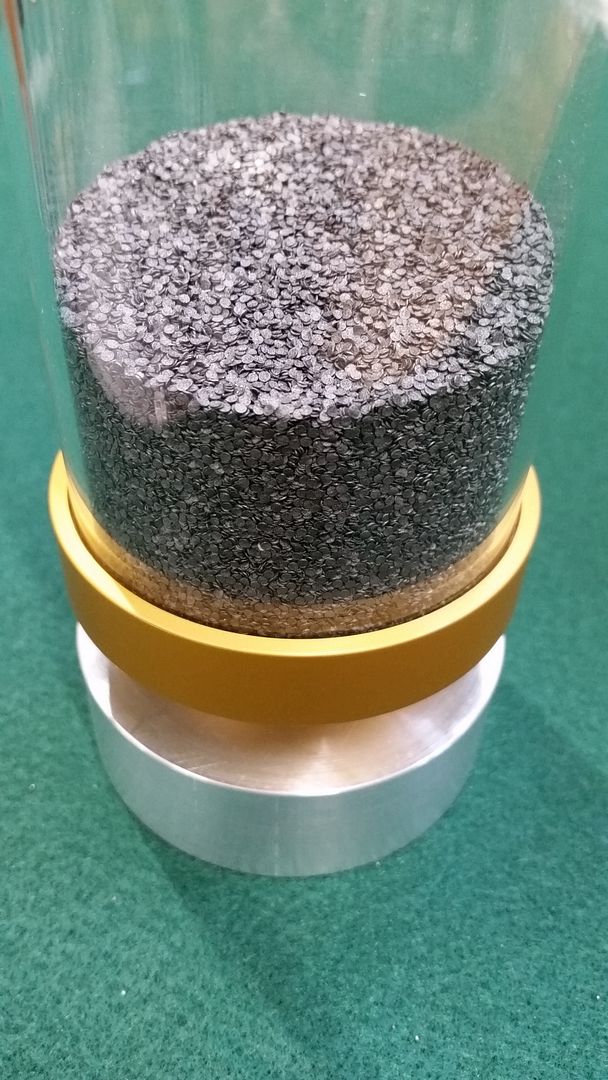 PYREX glass is the most widely known of Corning's family of low expansion borosilicate glasses. It is the glass that is used in your common kitchen measuring cup and baking dishes. It is ideally suited for the tube in a powder reservoir. It is highly resistant to chemical attack.

My PYREX Powder Reservoir is 2-3/4" in diameter and 12" tall (the same height as the Spolar shot reservoir).
It holds the same amount of powder as the Spolar OEM powder reservoir.
The open end of the glass tube has been fire polished to soften the edges.
The PYREX glass reservoir is virtually static free.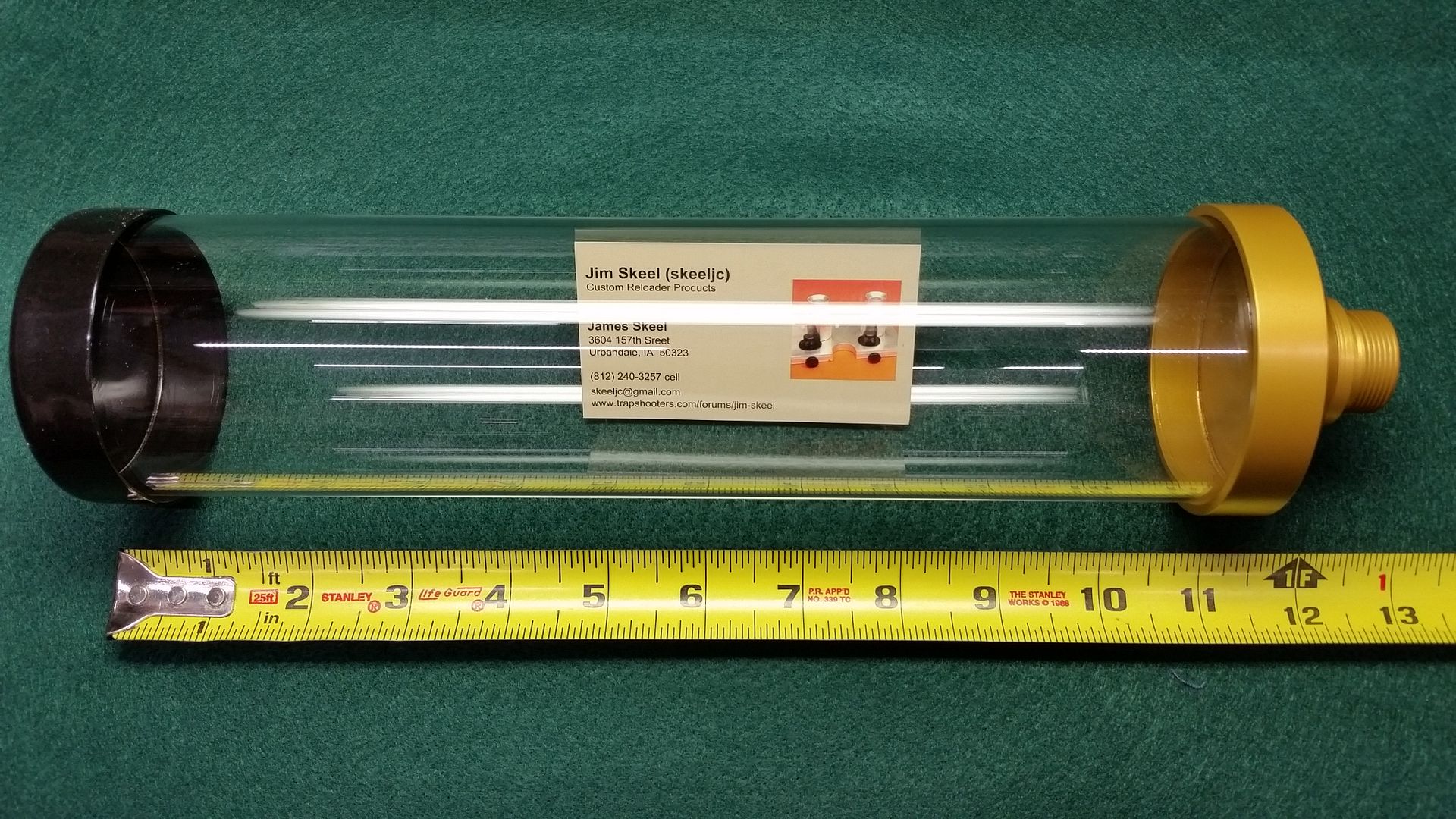 Powder grains sticking to the reservoir tube are not always the result of static charge.
Here is a Spolar powder tube that had powder in it for a long period of time.
Note the shrinking of the threaded area.
You could actually lift the plastic tube out of its base without turning it!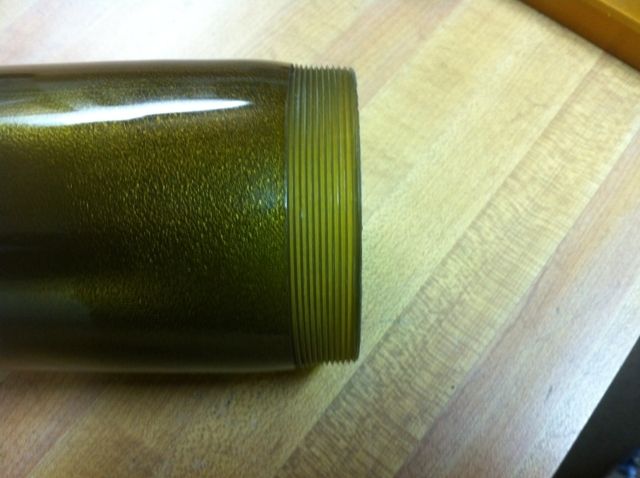 Some of the newer Hodgdon powders like LONGSHOT, TITEWAD, and TITEGROUP and IMR 700X are extremely corrosive. They will attack a plastic reservoir if left in the reservoir for a long period of time. My PYREX powder reservoir is not affected by these corrosive powders.
The PYREX Powder Reservoir is $105.00 plus $15.00 shipping.
I will accept a personal check, money order or PayPal.
If you want to do PayPal PM or email me and I will send you a PayPal Invoice.