Midsouth offers a variety reloading powders in container sizes from 1 pound to 8 pounds. Shop smokeless powder for sale by quantity, type, or brand here.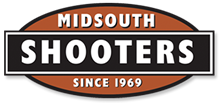 www.midsouthshooterssupply.com
8# Geen Dot and Herco, 4# Nitro 100 in stock at Midsouth Shooters Supply. Seems to be a limit of 1 of each type. Tried to check out with 2 Green Dots but would not let me. 1:16 PM eastern.
Green Dot out at 1:24 PM maybe they only had 1 when I tried to check out.