Somehow my last FS thread on this went "poof", not sure how or why......
Serial number in 6,0xx range, making it later model . Original/Matching 32 " barrels choked ImpMod/Full with EDM porting. The only blemish I see is that it looks like between two rib posts near muzzle the rib might have been bumped but it's an easy fix. Krieghoff Nitride finish was added to metal in 2012 to better show the deep San Remo engraving. Wood is BEAUTIFUL custom wood with about 1 1/4" drop at comb with comb all the way down. Black leather covered comb also included which gets the drop down to 2 1/2 ". The Gracoil is adjustable for length and four way butt. In the pictures it is 14- 3/4" LOP. Makes the gun extremely pleasant to shoot. Marlette gave the gun an annual service and installed a Briley K80 type trigger blade. Two years ago Krieghoff in Ottsville installed double release triggers ($1100), original pull/pull parts included in the sale. The gun is in excellent condition both cosmetically and mechanically, there is not a single mark of any kind on the butt stock or fore end, no repairs, no scratches, no dents, no dings. If you think you are seeing something in the pictures, it's a glare, flash or reflection. The furniture looks as good if not better in person than in the photos.
Only reason for selling is I've been offered a fair deal on Super Scroll that I shoot a little more consistently than this one. I purchased this with the intention of shooting it as and just honestly can't get fully adjusted to the releases. Triggers are CRISP and feel great,.... just not my thing I guess. Anyone looking to get into a K-Gun that would be in the mid to high 5 figures range in today's engravings, this might just be the deal you've been looking for.
Sorry, not open to any trades at this time, I have too many guns and am a tad short on cash for what I'm trying to accomplish. Comes with Krieghoff single case.
Phil 443-309-6030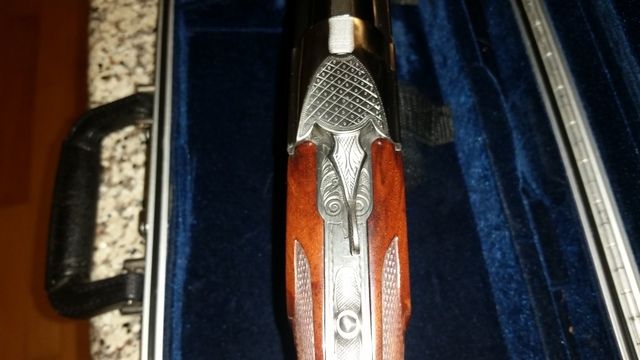 Phil 443-309-6030