I am trying to resurrect a 1927 Winchester Model 12 (30" barrel, full choke, solid rib) for use in the field and nostalgia shoots. Ran into a couple issues I am hoping to get some insight on from the experts here. Simmons is backed up for a couple months with work and I havent found a model 12 gunsmith in Omaha yet. I do have the AGI model 12 video and have watched it all the way through and feel comfortable disassembling the trigger and bolt.
It was rescued from the racks outside the Cabela's Gun Library. It has had a rough life but I plan to fix it and use it. I will keep the problems to individual thread for clarity.
Symptom:
When action is closed and bolt is locked up, the slide lock release button is impossible to push. It takes a good thump with a screwdriver handle to get it to release the slide. No amount of forward movement on the fore-arm will help release it.

If I needed to unload a live round from the gun, it would be near impossible on the line.

If I pull the trigger and then push the fore-arm forward slightly, the slide will then release and cycle fine. This is normal procedure I believe.
​
Observations:
The button is still stuck when the trigger group is out of the receiver ruling out any receiver to trigger group interference.
When pressed, the hook on the action bar slide lock is supposed to ride up on a bump on the hammer. In my case, the hook and the hammer bump are not aligned properly. The hook is just far enough below the edge of the hammer bump so it cannot engage. The hammer simply hits the front edge of the hook and stops moving.

Both spring wires on the action bar slide lock are present and functioning.
​
Solution:
Slightly file the tip of the hook so that it can engage the hammer properly??
​
It has definately been apart before. The "peen" marks on the trigger group screws were not lined up in a couple cases.
Photos:
How it should work when the button is pressed. ( I pushed the hammer back manually and then pressed the front of the action bar slide lock to engage it)
This is as far as it goes if I push the button only. the hook hits the edge of the hammer ramp and does not ride up on it.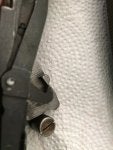 Just a photo showing the part and that the springs are still intact and functional.
Thanks.