Sooo,..I stumbled on these choke tubes on Ebay,..I " made an offer " of $70 USD for a set of 5 chokes and paid $20 shipping from Sweden. ( Beretta Mobile thread pattern ).
Now these are made from a Swedish manufacturer called CX-Arms..never heard of them,..but the chokes seems too good to pass-up....time will tell.
Well I ordered 2 sets on Friday, one for myself and one for my shooting buddy..and they arrived today by Fed-Ex ( 4 days from Sweden,...unreal )...they look great.
These chokes sell for $350 Euro on their website,..but I guess their dumping them on Ebay ?
I'm not affiliated with this company of course,...just wanted to pass this on,..buyer-be-ware as they say.
I've shared the Ebay Link, and the manufacturers link.
"Billman choke" set für Berett/Benel "mobil choke"/MCF. Wechselchoke für Bockdoppelflinten für Trap, Skeet & Jagd parcours Chokes (engl. choke 'würgen, drosseln) haben einen Einfluss auf die Streuung des Schrots nach dem Mündungsaustritt. Je nach Entfernung öffnet sich die Schrotgabe mehr oder...
www.cx-arms.com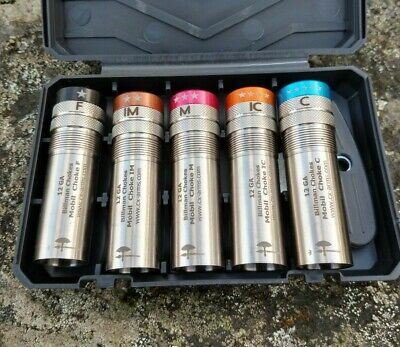 This 12 Ga. In combination with the right ammunition it provide optimization of performance. The constriction range is suitable for FITASC, clay-sport, Skeet and hunting. It does not fit any other caliber or choke-system.