This gun was one of my first purchases as I started shooting trap in 2013. I have moved on to a SBT so I rarely shoot this one any more. I have put 2100 rounds through it since I owned it with no problems. It has been cleaned after each use. It is still fairly tight to open and locks up with lever far to the right.
Barrel is a 30" invector plus, factory ported with no flaws inside or out. All metal is in great shape.
Wood is in very good condition with only a few handling marks and a small scuff on the forend. It has a Kick-ezz pad on it but I will include the original pad which is in good condition.
Nine chokes are included,Flush-2F,2M,2IC,1SK Extended-2 Briley Modified.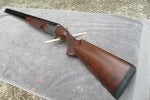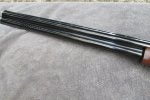 The price is $1350 delivered to you FFL. Your FFL will need to accept shipment from an individual or I will need to add the fee to ship through an FFL on my end. I am in the Atlanta area if someone wants to shoot it and do a FTF transaction. I have more pictures so let me know if you want to see any others and I will try to accommodate your request.
Thanks for looking,
TC