Discussion Starter
·
#1
·
When I first started trap in 1982 I did as many do – I read everything I could to "catch up" on a sport whose technology was foreign and endlessly interesting. Who could have guessed that all these apparently tiny differences could have such on profound effect on patterns, scores, wins and everything else? The magazine "Shooting Trap" was my constant companion, as were the myriad reloading guides, Gough Thomas, Burrard, Braun, you name it. I remember sitting on a rainy day in a northern Minnesota cabin torn between the pattern-widening effects of 700-X or the push-rather-than-jab recoil of PB.
It all seemed pretty straightforward. There were pictures in ST – representative patterns from Green Dot compared to the same from what-all and you could see the proof right there. Clearly, the differences were such that there were combinations to avoid as well as seek and Oberfell & Thompson (The Mysteries of Shotgun Patterns) which I fell on like a hyena on carrion laid out an easy-to-follow path to nail down the good ones, involving in particular the evaluation of "patchiness" resulting from one load or gun and using nomographs to come up with a rating from "poor" to "excellent." Oh yes, there were Wannsee and Krogius to pay attention to as well, though they largely discounted the former. (I must say now that there were parts of O&T I should have paid way more attention to and in fact am starting to, if belatedly. There may be a way to quantify "even distributions" but it'll take more study and retrospective analysis before I go much farther with it.)
Here's one of my data sheets.
Now if that doesn't establish my credentials as obsessive-compulsive I don't know what would. Six concentric areas, four quadrants, all the rest of that calculation and computation. It was only 1983 of course and I was only a year into it, and I see that by 1985 I'd thinned it out to just pellets and percentages and all the rest of that had gone by the boards because not a shred of it was reproducible. Three consecutive patterns never got the same rating, the patch-count never duplicated, and informally, it became clear that I could reproduce any of the "differences" I'd admired in magazines just by shooting a half dozen using the same shells and picking patterns which would illustrate any point I wanted to make. You want even? Pick shot three. Patchy? Pattern five illustrates that. Six has an unusually even distribution, don't you think? Let's call that Super-Lite powder for an upcoming article.
I've got hundreds and hundreds of these pages. The number of birds it got me is unknown, but not large, other than by patterning I found a lot of barrels that didn't shoot straight and saved myself a lot of grief that way.
I assumed that my patterning was at an end with the notebooks passing unappreciated to my heirs, but then Andrew Jones came up with Shotgun-Insight, his photo-based pellet counting program. Finally it was possible to shoot enough patterns to get an average and range and variability, a task about impossible when approached the way I'd started out. With three/five patterns you could never tell anything, and though ten isn't enough to see small differences, it will surely tell the wheat from the chaff.
I'm now several hundred patterns into this new rededication, and I must say I'm more doubtful than ever about the results reported here on TS.com, which is largely just a replay of Shooting Trap without even the misleading photos. Today again I read "When trying a new load" and see all these posts reporting differences and easy ways to find them and wonder why I never do. I only use factory or conventional reload – no tricks – and they are all about the same and just fine at that. Why would I use anything else?
I've never paid much attention to posts about the effect of wads on patterns. Until Trap2's (Dan Thome) Versalite study a few weeks ago, a refreshing change with pellet-counts, they have been mostly about "more even" and "hard-hitting if I do my part" and that kind of thing. Nothing you can test, nothing I've been even tempted to think about much less try. After all, I have a couple of loads that work using conventional components; why chase after phantoms I'll probably end up keeping in the same cabinet as my target-lead blueprints and low-recoil powders?
But last winter, I saw something I could test, and which might actually have a result people could use to improve their scoring and bolster my personal understanding of the effects of lighter shot-charges. As you all know, seven-eighths ounce loads have enjoyed a period of popularity here (whatever happened to them; they were everywhere?) and along the way someone asked about wads for STS hulls. There was a reply that there is "only one load" that would work in the 1150 to 1200 FPS range and that is the Federal 12SO which, besides exhibiting more consistent speeds, produces patterns which are "absolutely terrific." In contrast, the poster continued, the WAA12L (the so-called Winchester Gray wad) has inconsistent ballistics below 1250 fps and the patterns are no good either.
I tested the ballistic part and that didn't prove out – there was really no difference in consistency of speed or pressure.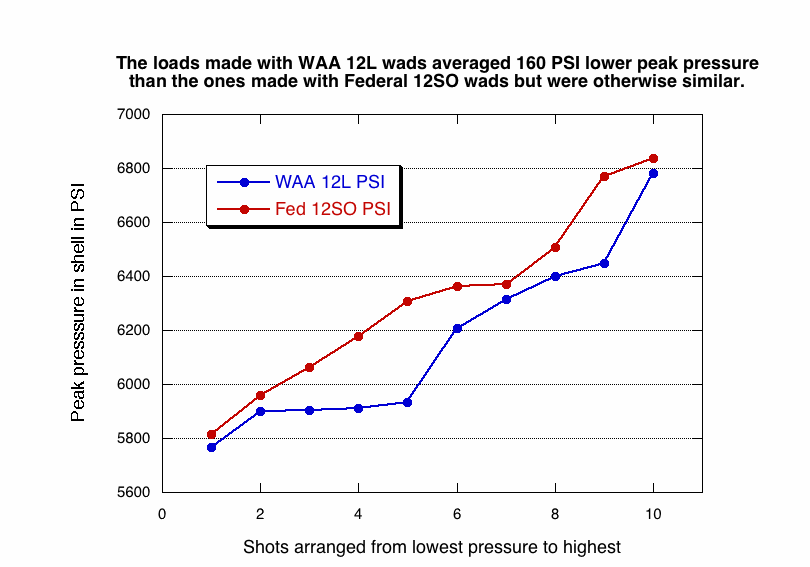 . . . but the pattern comments stuck with me. I'd loaded plenty of each for patterning but since I didn't shoot 7/8 ounce much anymore I let it slide until the September issue of Shotgun Sports reignited my interest with claims about dramatic effects allegedly attributable to different shot-column heights.
It was late fall before I got out to Metro in Blaine, Minnesota and got a chance to work. I tried to assemble what I thought a real-life competitor might use shooting singles with 7/8 ounce. The distance I chose was 34 yards, which is just my standard for singles; the pellets were Remington Tournament Grade 8 ½'s. WW 209 primers sparked enough Red Dot to produce speeds of 1150 FPS from once-fired STS hulls. I used the under-barrel of an MX-2000 Perazzi with a bore of 0.738 and a choke of 0.030 inches, all entirely standard stuff, but just one of countless equipment choices shooters make all the time. I thought of this protocol as "typical" though another would have been equally reasonable.
Let's look at overall pattern percentage and smaller concentric areas, as good metrics of "quality" as any other. Here are the two wads in the cited speed range, a tested 1150 fps.
And since so many speed shells like up quite a bit, I did some at 1300 fps.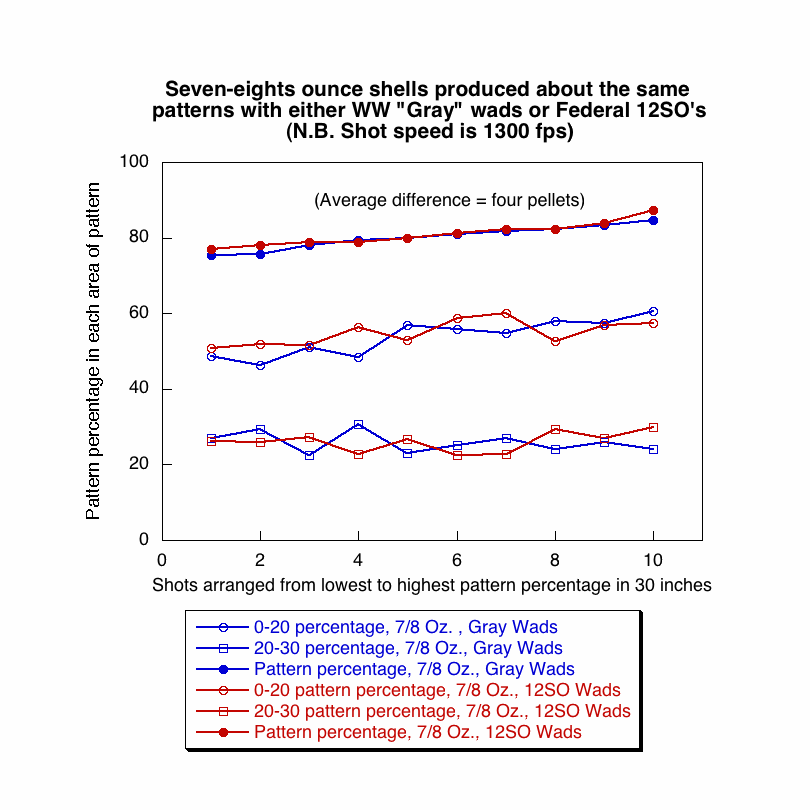 The graphs say it all. There's no difference at all in the patterns produced by these two wads in this experiment. Note too that there's no added pattern spread attributable to the big increase in speed from 1150 fps to 1300, just as I got with one-ounce loads. All of which makes me wonder once again, why is everyone else reporting results I never get?
I did some other work with 7/8 loads which I'll post as soon as I get it together. There will be something interesting to look at there, I promise.
Thank you for your interest,
Neil
© 2009 Neil Winston