---
Subject: tula choke uestion
From: tomaso
Date: Sat, Feb 02, 2013 - 11:47 PM ET
Website Address:


all of the tula choked bbls i have seen were 12 guage. were subguages made, or more importantly, successful? for instance, the krieghoff bbl sets i have seen are non tula but there are tula choked 12 guage k-gun bbls. just curious. thanks tom mc

Email a link to this post - Email a link to this thread - Back to the Trap Discussion Web
---
Subject: tula choke uestion
From: Senior Duelist
Date: Sun, Feb 03, 2013 - 12:39 AM ET
Website Address:


Tom I only know of Twelve Ga. I talked to Krieghoff in Florida they had a couple of sets of barrels listed for sale. In my humble opinion the Tula choke is still the best skeet chokes on the market. They give the densest pattern and really crush clay targets. Ken

Email a link to this post - Email a link to this thread - Back to the Trap Discussion Web
---
Subject: tula choke uestion
From: school_teacher
Date: Sun, Feb 03, 2013 - 07:17 AM ET
Website Address:


Is "Tula" a brand name or a type of choke. I remember reading somewhere that this was a type of choke originally developed at the Soviet armory at Tula in which the constriction was applied in two separate stages within the barrel.

What is a "Tula" choke? Are they better than a single constriction choke?

Ed Ward

Email a link to this post - Email a link to this thread - Back to the Trap Discussion Web
---
Subject: tula choke uestion
From: Gregg535
Date: Sun, Feb 03, 2013 - 11:22 AM ET
Website Address:


They were developed by the Russians for International skeet shooting in the 1970's. Their advantage was supposed to be a longer shot string, which was thought to be a good idea with the many crossing targets.

As the Russians designed it, they were basically a longer more complicated jug type choke that actually increased to way larger than 12 gauge bore size. You need to use the felt/paper type wad system to make it work as designed so the shot itself can compress and reopen in the choke. A one piece plastic wad negates this effect.

They soon went out of favor.

Email a link to this post - Email a link to this thread - Back to the Trap Discussion Web
---
Subject: tula choke uestion
From: pufftarget
Date: Sun, Feb 03, 2013 - 12:49 PM ET
Website Address:


I would call the Cutts compensator the predecessor to the Tula choke (named for the Russian armory where it was made?) The charge enters a large chamber, necks down in the next section, then expands again in the last section of the choke before exiting the barrel. The effect was less w/ a modern wad but still worked well. The effect, however, seemed to diminish w/ the 1 z. load and may have been counter productive w/ 24g load. Ljutic made a skeet gun w/ what he called a patternator choke which shot an extremely large pattern w/ the T-122 & T-123 Federals and w/ the Winchester 32g international loads. All three had an uncollared wad.

Chuck

Email a link to this post - Email a link to this thread - Back to the Trap Discussion Web
---
Subject: tula choke uestion
From: cubancigar2000
Date: Sun, Feb 03, 2013 - 02:34 PM ET
Website Address:


Stan Baker had his own Jug choke design and did a lot of model 12's. They worked well

Email a link to this post - Email a link to this thread - Back to the Trap Discussion Web
---
Subject: tula choke uestion
From: Skeetbender
Date: Sun, Feb 03, 2013 - 06:09 PM ET
Website Address:


S&W Super Skeet had them in both the 12 and 20.

Just happened to be looking for info on the 12 yesterday I once had and came across the same gun in a 20ga. never new they made one.

Email a link to this post - Email a link to this thread - Back to the Trap Discussion Web
---
Subject: tula choke uestion
From: Bruce Em
Date: Sun, Feb 03, 2013 - 08:16 PM ET
Website Address:


Jug chokes..

Beretta Optimas in skeet (red band) appear to be Tula type chokes. They open up and close back down. ANyone else measure them better?

And no they didnt work well for me with my 7/8 oz or 24 gram loads

Email a link to this post - Email a link to this thread - Back to the Trap Discussion Web
---
Subject: tula choke uestion
From: GN7777777
Date: Mon, Feb 04, 2013 - 12:23 AM ET
Website Address:


Yes they still work well with plastic wads although the effect may not be as dramatic

They weren't designed for longer shot strings as posted but rather the opposite

To have a very quick and wide expansion of the shot pattern- short and wide but with all that shot in a 12 gauge even the wider pattern will be filled

Particularly useful at station 8 gun down

Regards from Iowa

Gene

Email a link to this post - Email a link to this thread - Back to the Trap Discussion Web
---
Subject: tula choke uestion
From: Gregg535
Date: Mon, Feb 04, 2013 - 12:32 PM ET
Website Address:


Gene77777,

I am afraid you are quite wrong about the purpose of the Tula choke as designed by the Russians for skeet shooting. Do some research and you will see that I am correct about their goal being to lenghten the shot string. Possibly what different manufactures came up with for their barrels that were made for retail sale were very different than an actual Tula choke.

For example, here is a quote from an article from ClayShooting USA _ February 2007 issue .....

"As Bob Brister noted, it was remarkably similar to having a Cutts Compensator built into the barrel. And by over-boring, I don't mean opening the bore by 10 thou or so -- the retro section of a .729 bore is usually in excess of .790. Its effect was to lenghten the shot string thus providing the optimum pattern for the close range, acute angles found on the Skeet layout. As Soviet shooters swept the board, Western shooters rushed to copy the new wonder chokes." end quote

Email a link to this post - Email a link to this thread - Back to the Trap Discussion Web
---
Subject: tula choke uestion
From: Neil Winston
Date: Mon, Feb 04, 2013 - 01:09 PM ET
Website Address:

Yes, I know that they were supposed to be matched with fiber wads and I shot those dreadful T-122's for as long as I could stand it, but it was clear the scores were no different, so I went back light AA's and at least the headaches went away.
I did an extensive test on open chokes last fall. Remembering that they were to open patterns more, I tested them against my open-pattern champions. Twenty yards, ten shots, counted pellets. Since the aim of all these chokes is to open patterns, shotgun-Insight's 75% diameter (not pattern percentage) was the appropriate statistic to track. It refers to the diameter of a circle which would hold 75% of the pellet-holes.
The Tula did not do anything special with the shells I used. Specifically it shot tighter, not more openly. than three barrels costing a tenth or twentieth as much.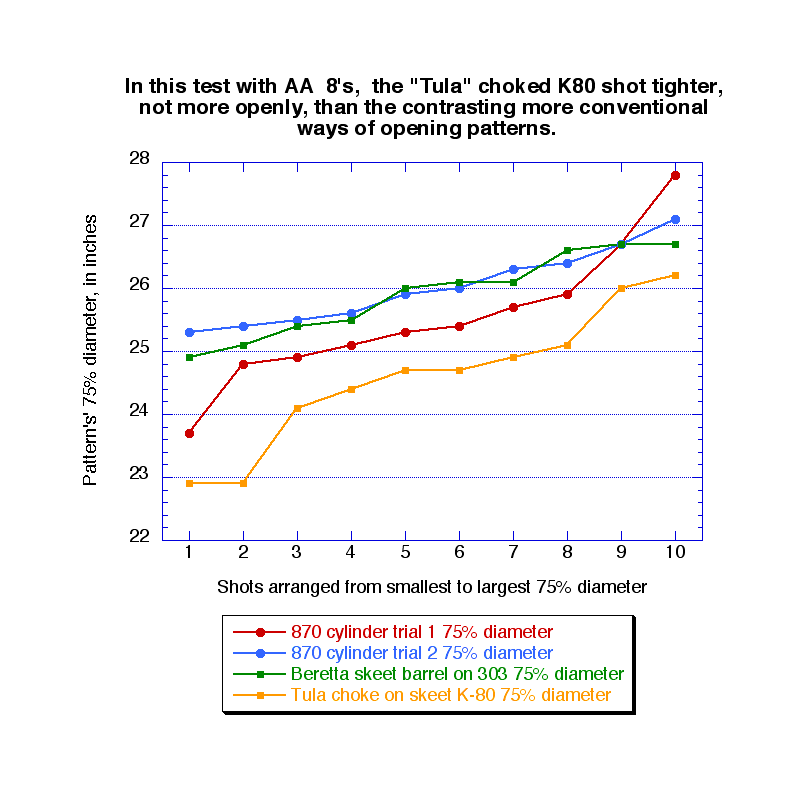 The Tula shot about like "cylinder" screw-in chokes, which shoot, of course, tighter than "real" cylinder chokes.

Neil

Email a link to this post - Email a link to this thread - Back to the Trap Discussion Web
---
Subject: tula choke uestion
From: drgondog
Date: Mon, Feb 04, 2013 - 01:37 PM ET
Website Address:


I shot a lot of international skeet during the late 60's through late 70's.Had several discussions with the Russian teams,pecifically Petrov. In his opinion the Tula choke differed from the Cutts compensator with Spreader tube only by the actual dimnsions, not the philosophy.

Allegedly he Soviet shooters were intrigued by the Cutts pre WWII and the notion of a more efficient choke for skeet was derived b the expansion, contraction and 'spread' thoughts. The notion, wen expressed to me was that the pattern shot string was Compressed -not lengthened - and there was better coverage/ensity within a specific diameter at 21-25 yards.

He(and Brister)described the pattern more as a 'pie plate' than a 'cone'.

I neve had the facilitis to test the theory but I shot the same T-122's as Neil, as well as some miniature dynamite suplied to me by Konnie Wirnheir when he rep'd for Rottweil after his 1972 Gold. I nticed the glasses knocked off my ears and ringing in my ears but wet back to the paper Federals most of us were shooting.

Email a link to this post - Email a link to this thread - Back to the Trap Discussion Web
---
Subject: tula choke uestion
From: EuroJoe
Date: Mon, Feb 04, 2013 - 01:50 PM ET
Website Address:


The Krieghoff "Tula" choke doesn't look much like the Russian version. I don't doubt Neil's findings. However, I shot at Ft.Benning in 1977 with Phil Provence who was the USAMU coach, and he was shooting a Russian Baikal MC8 with the real Tula choke. He said he had a 58" pattern at skeet ranges. The shells used then were Federal T-123, 3.5dr,1&1/8 oz,#10 shot. Kicked like a mule, but the target destruction had to be seen to be believed! I still have a box of them left. The USAMU's duties were to shoot, clean-up, and throw darts.Not bad duty. I learned a lot on that trip, and made a quantum leap in my Int'l Skeet shooting as a result.

Email a link to this post - Email a link to this thread - Back to the Trap Discussion Web
---
Subject: tula choke uestion
From: Vince McNamara
Date: Mon, Feb 04, 2013 - 04:26 PM ET
Website Address:


Browning is doing something different with their choke tubes in their new 725. A friend bought one and I measured his barrels and the choke tubes. The choke tubes open up about .018 and then there is restriction at the end of the tube. This is the chart I made for him.

BROWNING 725 OVER/UNDER

OVER BARREL = .735 RESTRICTION UNDER BARREL = .735 RESTRICTION

CHOKE TUBES SK = .753 TO .738 = RESTRICTION OF .003+ IC = .753 TO .733 = RESTRICTION OF .002 M = .753 TO .728 = RESTRICTION OF .007 IM = .754 TO .722 = RESTRICTION OF .013 F = .754 TO .700 = RESTRICTION OF .035

He is going to go to Kingsburg this next Sunday and we are going to pattern the tubes and see how the gun shoots. It will be interesting.

Email a link to this post - Email a link to this thread - Back to the Trap Discussion Web
---
Subject: tula choke uestion
From: pufftarget
Date: Mon, Feb 04, 2013 - 08:20 PM ET
Website Address:


Other than being expensive the T122 was no more than a 3 dram skeet load w/ composite wad and no shot cup designed for use at Greys Lake range in Chicago to shoot into the lake and not leave plastic wads floating. The T-123's were the burners and would indeed knock your ---- in the dirt as would the Winchester 3-1/2 dram #10's loads only more so.

The choke in my Rottweil and MC-8 seemed to do the same thing as a Cutts; shoot a large pattern that had the effect similar to throwing a target flat against a wall. The target broke evenly in many, many pieces and fell straight down. It seemed never to leave a smoke trail as blowing through the target. The reason Kenny Barnes used the old Winchesters w/ the shot wrapped only in a plastic strip to protect it in the bore before the Cutts' he shot.(The first 4x100 in American skeet.)

Email a link to this post - Email a link to this thread - Back to the Trap Discussion Web
---
Subject: tula choke uestion
From: 1perazzi
Date: Mon, Feb 04, 2013 - 09:49 PM ET
Website Address:


My understanding is that the Tulas were for old square shot, paper hulls and no wads for them to be affective.

Email a link to this post - Email a link to this thread - Back to the Trap Discussion Web
---
Subject: tula choke uestion
From: skeeljc
Date: Mon, Feb 04, 2013 - 10:08 PM ET
Website Address:


My Beretta 391 Sport 20 gauge has a Tula Skeet choke. Best pattern for skeet I have found (with 8's).

Jim Skeel

Email a link to this post - Email a link to this thread - Back to the Trap Discussion Web
---
Subject: tula choke uestion
From: skeet_man
Date: Mon, Feb 04, 2013 - 11:17 PM ET
Website Address: http://sminglershotgunsports.webs.com/




If someone could figure out how to blow this up to readable size, it may be helpful...

http://www.jaktojagare.se/upload/article/bild/2/406586/g_skarning_s.jpg

Email a link to this post - Email a link to this thread - Back to the Trap Discussion Web
---
Subject: tula choke uestion
From: EuroJoe
Date: Mon, Feb 04, 2013 - 11:20 PM ET
Website Address:


Puff: That was Lincoln Park Traps in Chicago, Grays Lake is 20 miles from water. Winchester loaded special shells for them without plastic wads, which I used for Intl Skeet. Pleasant to shoot. The Win Intl load was 2mm.shot, just slightly larger than #10. In those days, Winchester would load you anything you wanted if Qty was 5000 or more, 10 cases, not flats.

Email a link to this post - Email a link to this thread - Back to the Trap Discussion Web
---
Subject: tula choke uestion
From: Borderland
Date: Tue, Feb 05, 2013 - 12:45 AM ET
Website Address:


My S&W 1000 w/tula barrel and T-122s was the same experience as pufftarget....no smoked targets-just lots of little pieces and a large diameter pattern.

Email a link to this post - Email a link to this thread - Back to the Trap Discussion Web
---
Subject: tula choke uestion
From: drgondog
Date: Tue, Feb 05, 2013 - 08:52 AM ET
Website Address:


1Perazzi - what you may be thinking about is the occasional use of square shot for station 8 before being banned. When I first shot with Petrov and Zurinov(sp?) they had a cartidge belt instead of a pouch and had station 8 loads separated - IIRC they told me that they had separate loads for station 1, 2, 6, 7 and 8but I don't recall that they paid any attention to any load other than the last two.

Email a link to this post - Email a link to this thread - Back to the Trap Discussion Web
---
Subject: tula choke uestion
From: GN7777777
Date: Tue, Feb 05, 2013 - 09:17 AM ET
Website Address:


Great to see Neils touch on this

Regards from Iowa

Gene

PS same Olympics== Russian shooters caught with square aluminum shot shooting station 9- disqualified

Email a link to this post - Email a link to this thread - Back to the Trap Discussion Web
---
Subject: tula choke uestion
From: lillico
Date: Thu, Mar 21, 2013 - 02:53 PM ET
Website Address:


I remember (many years ago) a review on a Rottweil Skeet gun being tested with its partner cartridges (also Rottweil) The pattern from the chokes appeared to remove the high concentration of shot from the centre (UK for center)of the pattern to the outside of the pattern edge, thus providing sufficient hits for the clay in the centre of the pattern, while increasing the density of the periphery for we mortals. I am told, if viewed in cross section at the pattern plate face, a 'normal' pattern will have a 'normal' distribution, that is dense at the centre and gradually getting less frequent in hits. It would appear that these choke are designed to change the distribution of the pellets across the diameter of the pattern (and possible increase it). Whether changes to shot string length are effected by this or are a cause is beyond me. However, the 'broken but not smoked' clays with those heavy loads and high speeds would tend to confirm an even and broad pattern with little or no concentration at the centre.

Frank G Miller

Email a link to this post - Email a link to this thread - Back to the Trap Discussion Web
---
Subject: tula choke uestion
From: semperfi909
Date: Fri, Mar 22, 2013 - 12:52 AM ET
Website Address:


Since this popped up again I'll mention that eye balling the two Tula choke Perazzi bbls I have gives different dimensions. I may get around to dropping the mic in them eventually but the '78 bbl has longer and bigger major dia's than the '90 bbl by a bunch. The early one is way better polished too. Can't say it makes any diff to the targets that I've noted cuz they both make smoke w/ 24gm loads and the target in the middle of it. Not that that happens all that often, but when it does............. hahahaha

Email a link to this post - Email a link to this thread - Back to the Trap Discussion Web
---
Subject: tula choke uestion
From: eightbore
Date: Mon, Mar 25, 2013 - 10:27 AM ET
Website Address:


This interesting thread is almost off the three day chart, so here it is at the top again. Much good information and a few old wive's tales. Why does a choke tube cylinder pattern tighter than what one poster refers to as a "real" cylinder? Also, I doubt that the shot ever touches a Cutts spreader tube as some seem to think. When I get some time, I'll measure a Krieghoff Tula choke, but patterning will have to wait until real spring. 4" of fluffy snow last night, still snowing in MD.

Email a link to this post - Email a link to this thread - Back to the Trap Discussion Web
---
Subject: tula choke uestion
From: GN7777777
Date: Mon, Mar 25, 2013 - 10:39 AM ET
Website Address:


I have noticed that the old Tula barrels from Krieghoff have significantly different shape and dimensions than the newer ejector type tula barrels

I surmise that the newer ones might be better tuned for plastic wads but dont know

I have noticed that the profiles of some Perazzi tula barrels vary as well

It would be nice if Neil had one of each to pattern and was willing to do that

Regards from Iowa

Gene

Email a link to this post - Email a link to this thread - Back to the Trap Discussion Web
---
Subject: tula choke uestion
From: EuroJoe
Date: Mon, Mar 25, 2013 - 12:19 PM ET
Website Address:


eightbore: easy question! ALL screw chokes pattern about 5 points tighter than fixed chokes of same dimension because of "jug choke" effect.

Email a link to this post - Email a link to this thread - Back to the Trap Discussion Web
---
Subject: tula choke uestion
From: trw
Date: Mon, Mar 25, 2013 - 06:52 PM ET
Website Address:


Eightbore : I think you are correct about the Cutts 'Speader' tube & shot contact. I too doubt it happens.

One opinion might be it's real role is that of creating a venturi effect, to speed the remaining gases to either upset the back of the shot column or move the wad into the back of the shot column just as it exits the muzzle, even though gas pressure would be less than it was on initial exit from the bbl. because of the venting in the expansion chamber. It would be interesting to see some high speed strobe photos of a Cutts and Tula both, just as the shot column exits. Cutts Compensators w/speader tubes were the norm at one point in time having thrown a lot of evenly distributed patterns at skeet ranges. They appear to have little following today except by a few old die hards or those who enjoy shooting vintage skeet guns.

Some of those old paper & card type wads sealed much better than people might think as they expanded rather well, up to a point and the over powder card wads would delaminate & explode more or less instantly once no longer contained by the bbl's. dia. It begins inside the expansion tube of a Cutts or a Tula choke, but is mostly blown away in the form of visible confetti. I do know that the old PowerPac muzzle devises got an accumulation of paper on their screw-in choke back sides which was capable of locking the choke in place for all intents & purposes, if not cleaned routinely. Tula chokes can also accumulate large amounts of trash, much more so with paper than plastic, but either builds up after a while when neglected.

Fun topic for sure.

BTW, Euro Joe got it right on the reason for the difs between fixed CYL & screw in CYL.

FWIW, factory fixed skeet chokes in both Remington and Beretta semi autos have a slight similar expansion/contraction/then flaired at the muzzle profile. interestingly, no screw ins that I've measured or checked seem to have that kind of profile.

Email a link to this post - Email a link to this thread - Back to the Trap Discussion Web
---
Subject: tula choke uestion
From: Neil Winston
Date: Mon, Mar 25, 2013 - 07:12 PM ET
Website Address:


EuroJoe, while what you wrote

"ALL screw chokes pattern about 5 points tighter than fixed chokes of same dimension because of "jug choke" effect"

is generally true (the finding but not necessarily the reason,) at least for open chokes, it does not hold for tighter restrictions, where tubes can pattern tighter or more loosely in unpredictable ways.

I am working on a new essay, probably titled "Experiment with Open Chokes." Though trapshooters may not too interested I've found them well worth study. I test several printed assertions regarding cylinder and skeet chokes and and report my findings with specific reference to several brands of choke which make varying claims. It should be available for download from northstarclaytarget.com in a couple of weeks. I look forward to readers' reactions.

Neil

Email a link to this post - Email a link to this thread - Back to the Trap Discussion Web
---
Subject: tula choke uestion
From: eightbore
Date: Tue, Mar 26, 2013 - 09:29 AM ET
Website Address:


Neil, I can't wait for your published work on open chokes, so I can see the results of your experimentation that shows that a barrel with a screw in choke with no constriction patterns tighter than a fixed choke barrel with no constriction.

Email a link to this post - Email a link to this thread - Back to the Trap Discussion Web
---
Subject: tula choke uestion
From: Texshooter
Date: Tue, Mar 26, 2013 - 12:05 PM ET
Website Address:


My thought always has been that the Tula chokes open up, then start pushing the outer shot back in creating a pattern with a tight center because of the forces involved. I prefer a long parallel choke that straightens the shot out giving a uniform pattern across the area you want covered instead of a hot center. I have seen similar problems with chokes poorly installed in a barrel where the inside choke tube starts much more open (larger) than the barrel inside diameter, so the pattern opens up slightly and then it is pushed back together by the choke, resulting in a "hot" center and poor coverage in the outer pattern like the Tula. I hope this makes sense.

Add: Some shooters want a "hot" or dense center to there shot pattern. AG

Email a link to this post - Email a link to this thread - Back to the Trap Discussion Web
---
Subject: tula choke uestion
From: Gregg535
Date: Tue, Mar 26, 2013 - 12:20 PM ET
Website Address:


It can be somewhat hard (even impossible??) just to define terms when it comes to what a cylinder choke really is with screw-in systems. The fact that they use at least 0.010 of bore size increase at the start of the choke to allow some leeway for manufacturing tolerances can make an "apples to apples" comparison with a fixed barrel impossible.

For example, I bought a new Browning auto sporting clays gun when they were first introduced. The bore was 0.740 and the choke tubes all had an inlet size (skirt diameter) of about 0.753. The factory supplied flush choke tubes that came with this gun included a "cylinder" tube that was a true parallel 0.753 cylinder. So on the one hand it is a "cylinder" choke tube -- but it measures 0.013 over actual bore size.

Presently I own a Browning 725 sporting clays and, as stated by Vance in an earlier post above, the specs they decided to use on their factory tubes are, at best, interesting. The tubes are a full 4 inches long. My bores are 0.737. These tubes, in all constrictions, use a 0.755 entrance to the tube but this is not just a rapidly tightening skirt as is typical. Instead this 0.755 is carried for about half the length of the tube (approx. 2 inches). Perhaps because of this (increase in bore size???) Browning has used some very low actual constrictions with these tube sets with the Modified tube tightening to only 0.730 and the I/Mod to 0.724. These don't provide much constriction when compared to the 0.737 bore measurement.

The more open chokes in this system are fine for skeet, and the included full choke is also fine, but there is nothing in these 725 choke tube sets that provide a typical modified choke pattern. I replaced mine with a set from Briley and have been happy.

Email a link to this post - Email a link to this thread - Back to the Trap Discussion Web
---
Subject: tula choke uestion
From: semperfi909
Date: Tue, Mar 26, 2013 - 12:22 PM ET
Website Address:


OK, I lied about the diameters in the Tula chokes. Yesterday I was filling in some blanks in the gun notes and thot well hell why not the Tulas.

I didn't do the lengths, but the dia's in the two gun here were within a couple thou of the same in bore and major dia. The newer bbl had larger muzzle constriction dia and that could just be manufacturing slop for all I know. The muzzle constriction in both was a taper out from the smaller dia at the end of the chamber. I was actually kinda surprised at how "small" the dia's were compared to how they look.

Getting the lengths will/would be way problematical. I just don't have a way to do it that would be other than pretty sloppy.

bore .724 --- main chamber .765+/- ---- muzzle .745old .755new both open to .765 more or less at the air

Charlie

Email a link to this post - Email a link to this thread - Back to the Trap Discussion Web
---
Subject: tula choke uestion
From: johnpe
Date: Tue, Mar 26, 2013 - 12:47 PM ET
Website Address:


Interesting and instructional reading!! Not mentioned is Winchester's WS-1 choke. For the two I have the bore pinches in by about 0.005" about 2 1/2 inches from the muzzle and then he bore flares out until it is about 0.020" larger than the original bores of 0.730". Supposedly, the idea was to provide a cylinder bore pattern diameter with a hot core. Those of you out there with a lot of experience can provide the facts of what these chokes really are and do. I've also been told that the Remington "IN" choke was a copy of the WS-1. True or not? The posting on the Browning 725 chokes and their constrictions come close to those of a Browning Special Sporting I had a few years ago. I especially remember the IC was 0.002" constriction which pretty well matched the Winchester drawing of 0.002 to 0.004 inches for IC.

Johnpe

Email a link to this post - Email a link to this thread - Back to the Trap Discussion Web
---
Subject: tula choke uestion
From: Pre-64
Date: Wed, Mar 27, 2013 - 01:09 AM ET
Website Address:

FYI
Dimensions of my Perazzi barrels with "Tula/ Jug" chokes; 1977 Type 3 Perazzi Mirage with 27 1/2" barrels with "Shark Gill" ports. Top Barrel Bore .726 at 3" before the muzzle the bore starts to open and reaches .767 3/4" later, just before the ports. The ports are 1" in total length. After the final (muzzle-end) port the bore is still .767 and starts to constrict immediately reaching an ID of .748 within 1/2" of travel. Then it immediately opens again to .768 at the muzzle providing .020 constriction (SK #2/ LM)
Bottom Barrel Bore .730 Jug bore .770 Choke .750 Constriction .020 Flare .770 Total Length of "Jug" is 2.25" Tapering at both ends
Email a link to this post - Email a link to this thread - Back to the Trap Discussion Web
---