| | |
| --- | --- |
| Posted By | Posted Date/Time |
| jbshep | 27-May-12 - 03:02 PM ET |
| jbshep | 24-May-12 - 10:00 PM ET |
| jbshep | 21-May-12 - 08:55 AM ET |
| jbshep | 15-Apr-12 - 08:09 PM ET |
| jbshep | 13-Apr-12 - 07:11 PM ET |
| jbshep | 13-Apr-12 - 07:10 PM ET |
| richcat | 13-Apr-12 - 02:04 PM ET |
| SBray | 10-Apr-12 - 12:16 PM ET |
| senorric | 09-Apr-12 - 09:40 PM ET |
| jbshep | 09-Apr-12 - 09:17 PM ET |
---
Subject: Beretta Jubilee Sporting 20Ga O/U REDUCED
From: jbshep
Email:
Date: Sun, May 27, 2012 - 03:02 PM ET
Website Address:


Still available. Brad

Email a link to this post - Email a link to this thread - Back to the Trap Discussion Web
---
Subject: Beretta Jubilee Sporting 20Ga O/U REDUCED
From: jbshep
Email:
Date: Thu, May 24, 2012 - 10:00 PM ET
Website Address:


Up

Email a link to this post - Email a link to this thread - Back to the Trap Discussion Web
---
Subject: Beretta Jubilee Sporting 20Ga O/U REDUCED
From: jbshep
Email:
Date: Mon, May 21, 2012 - 08:55 AM ET
Website Address:


Will trade for a small gauge Perazzi. Brad

Email a link to this post - Email a link to this thread - Back to the Trap Discussion Web
---
Subject: Beretta Jubilee Sporting 20Ga O/U REDUCED
From: jbshep
Email:
Date: Sun, Apr 15, 2012 - 08:09 PM ET
Website Address:


Comes with certificate stating that the engraving was dome by Master Giovinelli himself.

Reduced to $10,000.

Email a link to this post - Email a link to this thread - Back to the Trap Discussion Web
---
Subject: Beretta Jubilee Sporting 20Ga O/U REDUCED
From: jbshep
Email:
Date: Fri, Apr 13, 2012 - 07:11 PM ET
Website Address:


RichCat:

Not at this time. i have another trade offer I am considering. Can you post some pics of your Browning? Thanks,

Email a link to this post - Email a link to this thread - Back to the Trap Discussion Web
---
Subject: Beretta Jubilee Sporting 20Ga O/U REDUCED
From: jbshep
Email:
Date: Fri, Apr 13, 2012 - 07:10 PM ET
Website Address:


RichCat:

Not at this time. i have another trade offer I am considering. Can you post some pics of your Browning? Thanks,

Email a link to this post - Email a link to this thread - Back to the Trap Discussion Web
---
Subject: Beretta Jubilee Sporting 20Ga O/U REDUCED
From: richcat
Email: rcattinari@gmail.com
Date: Fri, Apr 13, 2012 - 02:04 PM ET
Website Address:


I have an equaly nice O/U Browning superposed superlite 12 ga. p-3 I would like to trade, interested I can send pics. You won"t believe this masterpiece, it will take your breath away!! R

Email a link to this post - Email a link to this thread - Back to the Trap Discussion Web
---
Subject: Beretta Jubilee Sporting 20Ga O/U REDUCED
From: SBray
Email:
Date: Tue, Apr 10, 2012 - 12:16 PM ET
Website Address:


Excellent job of photography to display this really nice gun!

Email a link to this post - Email a link to this thread - Back to the Trap Discussion Web
---
Subject: Beretta Jubilee Sporting 20Ga O/U REDUCED
From: senorric
Email:
Date: Mon, Apr 09, 2012 - 09:40 PM ET
Website Address:


Good pics!

Email a link to this post - Email a link to this thread - Back to the Trap Discussion Web
---
Subject: Beretta Jubilee Sporting 20Ga O/U REDUCED
From: jbshep
Email: brad@shepherd.com
Date: Mon, Apr 09, 2012 - 09:17 PM ET
Website Address:

Beretta Giubaleo (Jubilee) 20Ga O/U in mint, cased, beautiful condition.
Engraved game scene with labradors by Giovanelli (with letter of authenticity), Optima flush chokes (two), Spectacular wood stock, all papers, original suede leather covered case, flannel sleeves, accessories. Factory checkered butt plate and factory leather covered pad.
Taken out for one afternoon only (twelve Quail).
Specs: 29-1/2" barrels; no cast; no palm swell.
Drop at Comb: 1-3/8"
Drop at Heel: 2-1/8"
LOP: 14-5/8"
Asking $11K or possible trades for Perazzi's & Colt's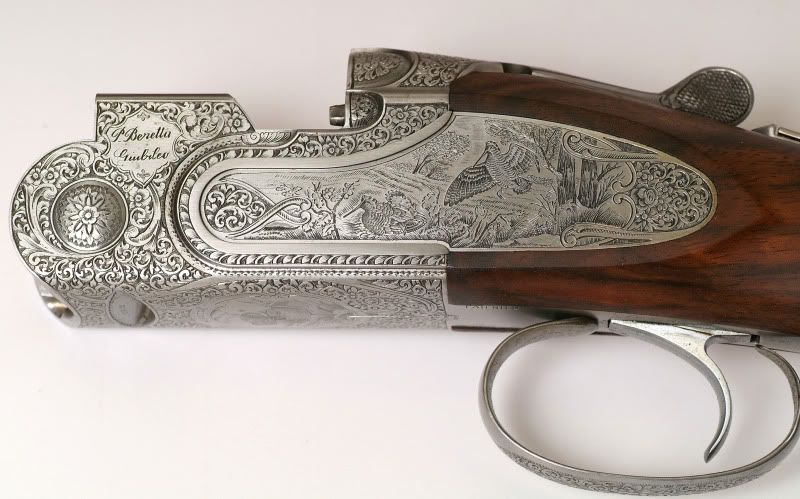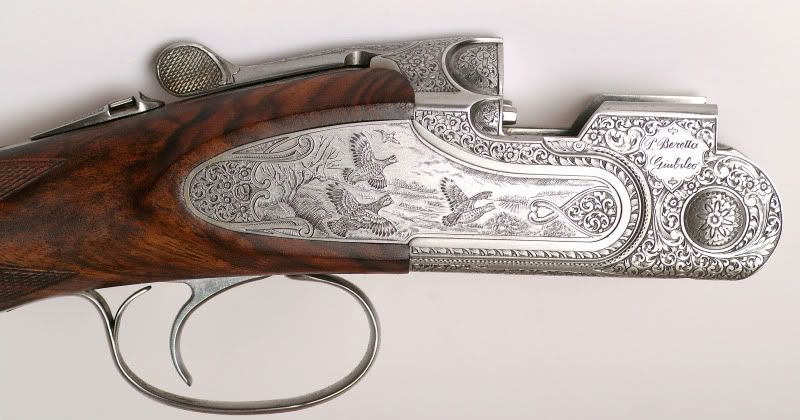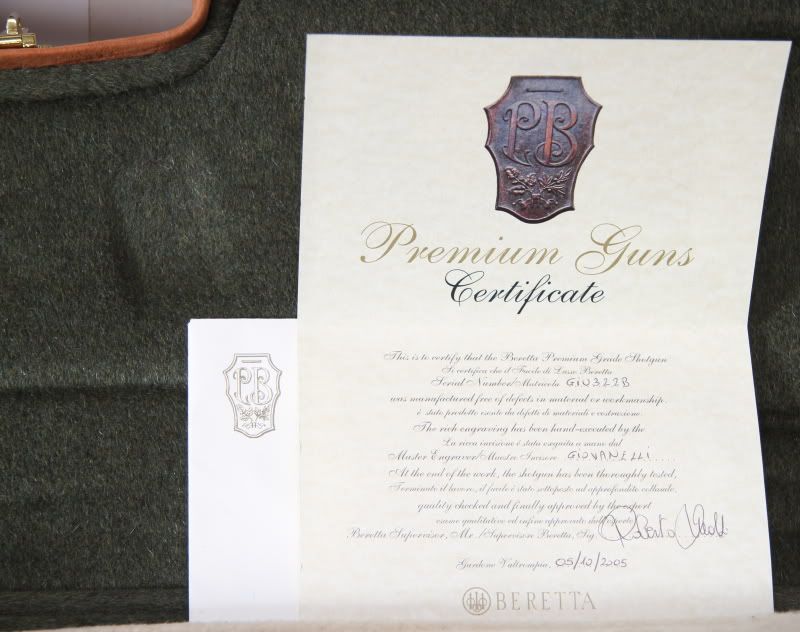 Email a link to this post - Email a link to this thread - Back to the Trap Discussion Web
---
The owners, administrators and moderators of the Trapshooters.com have no obligation to keep objectionable messages off this forum. It is impossible for us to review all messages. All messages express the views of the author, and neither the owners, administrators or moderators of Trapshooters.com Discussion Forum will be held responsible for the content of any message. The owners, administrators and moderators of the Trapshooters.com Discussion Forum reserve the right to remove, edit, move or close any thread for any reason at our sole discretion. However, the owners, administrators and moderators are not monitoring or editing the site and are under no obligation to police it for items that some persons may find objectionable.
[ Back ]
To Register for full access to reply and create threads Click Here!
To Login to the discussion web Click Here!
To report problems with this site email email us